About Us
Welcome to Egyptian Marble and Granite Company, fondly known as EMG group. Based in the vibrant city of Cairo, Egypt, EMG has been a pioneer in the realm of natural stone since our establishment in 2006. With over a decade of a dedicated service, we have solidified our reputation as one of the leading natural stone manufacturers in Egypt, a top worldwide supplier, and a premier destination for the finest quality marble, granite, and natural stone products.
---
Our Facilities
At EMG, we take pride in our position as a front-runner in the industry. With unwavering commitment and a passion for excellence, we have earned a distinguished place among Egypt's leading natural stone companies. What truly sets us apart is our ownership of three state-of-the-art factories and expansive warehouses. These facilities empower us to meticulously process, craft, and store our materials, ensuring that each product that leaves our premises carries the hallmark of precision and quality.
Beyond our manufacturing prowess, we offer a personalized touch through our showrooms. Here, our clients and partners can witness the splendor of our materials firsthand, immersing themselves in the textures, colors, and designs that define EMG. These showrooms are spaces where dreams of architectural grandeur and interior elegance take shape, guided by our expert teams who understand the intricacies of each product and its potential in diverse projects.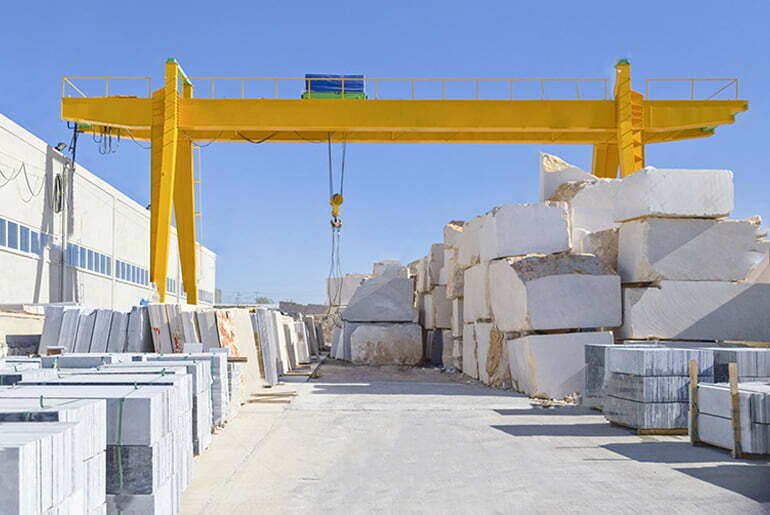 Our Production Line
At Egyptian Marble and Granite Company (EMG), our commitment to delivering the finest marble, granite, and limestone products is mirrored in our state-of-the-art production line. We take pride in seamlessly marrying traditional craftsmanship with the latest manufacturing techniques to create materials that redefine excellence.
Our production line stands as a testament to our unwavering pursuit of perfection. We've harnessed the power of cutting-edge technology to elevate the transformation of raw natural stones into masterpieces. From the moment these stones arrive at our facilities, they embark on a journey of refinement that marries tradition with innovation.
Key to our manufacturing prowess are precision machinery and skilled artisans. These machines, equipped with the latest advancements in stone processing, allow us to carve, cut, and shape with an unparalleled level of precision. Whether it's a monumental granite column or delicate marble tiles, our machinery ensures that each piece carries the mark of excellence.
WHY EMG?
EMG has built a reputation for providing premium quality marble and granite products. We have a strong commitment to excellence, ensuring that their materials meet the highest standards of quality.
We offer a wide range of natural stone products, including marble, granite, limestone, and more. This extensive variety allows customers to find the perfect stone for their specific project, whether it's a luxurious marble for an elegant interior or durable granite for a robust exterior application. We also have a team of experts who are well-versed in the properties and characteristics of different types of stones, which helps clients make informed decisions.
EMG's manufacturing facilities are equipped with advanced machinery and skilled artisans. This combination of traditional craftsmanship and modern technology ensures that the products we offer are not only beautiful but also durable and reliable.
We understands that every project is unique. We offer a range of surface finishes, including polished, unpolished, honed, brushed, acid, sandblasted, and more. This level of customization allows clients to achieve their desired aesthetic and functional goals. Additionally, We export our products to international markets. This global presence demonstrates our commitment to delivering quality natural stone materials to customers around the world.
Our Vision
'Shaping the Future of Natural Stone'
EMG envisions a future where the beauty and timelessness of natural stone continue to enrich the world's architectural and design landscape. As a trailblazer in the industry, our vision extends beyond supplying premium Egyptian natural stones. We see ourselves as stewards of tradition and innovation, continuously pushing the boundaries of what is possible with these magnificent materials.
In this vision, we aspire to be a global leader, setting new standards for quality, sustainability, and innovation in the natural stone industry. We envision a world where architects, designers, and builders turn to EMG not just for materials, but for inspiration and collaboration. We're committed to harnessing the latest manufacturing techniques and technologies to offer not only the finest marble, granite, and limestone but also innovative solutions that meet the evolving needs of our clients.
Our Mission
'Elevating Spaces with Egyptian Natural Stones'
At EMG, our mission is a testament to our unwavering commitment to excellence in every facet of our operation. We strive to export the highest quality Egyptian natural stones, including Egyptian Limestone Tiles, Egyptian Marble, and Granite, to international markets. Our dedication to delivering premium materials is not just a matter of business; it's a passion that drives us to continuously raise the bar in the industry.
Design isn't just about aesthetics; it's about creating experiences, and that's precisely what our materials offer. Our mission is to be more than just a supplier; we aim to be your partner in design, helping you transform spaces into living works of art. When you choose EMG, you're not just choosing materials; you're choosing a commitment to excellence, a dedication to design, and a passion for creating spaces that inspire and captivate.
Our Expertise and Experience
With an unwavering dedication to quality and an illustrious history spanning over a decade, EMG stands as a paragon of expertise in the natural stone industry. Our journey began in 2006, and since then, we have meticulously honed our craft, becoming a beacon of innovation and precision in the world of natural stone.
At EMG, our expertise isn't just about offering a wide range of natural stone products; it's about understanding the very essence of these materials. We have a profound appreciation for the artistry hidden within the Earth's treasures, from the timeless allure of marble to the rugged strength of granite and the understated elegance of limestone. This understanding allows us to curate a diverse and exquisite collection that caters to the unique preferences of our international clientele.
What sets EMG apart is not just the products we offer but the specialized services and capabilities that accompany them. Our state-of-the-art facilities, equipped with advanced machinery and master craftsmen, enable us to transform raw natural stones into masterpieces that narrate stories of elegance and resilience. The synergy of traditional craftsmanship and modern technology ensures that the products bearing the EMG mark carry with them a legacy of expertise and attention to detail.
Polishing Machine with 20 Heads